I love getting those messages.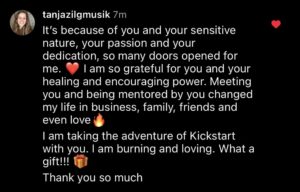 Thank you Tanja for trusting me and letting me be part of your journey, as you were also part of my online business journey from the beginning.
It's been an honor to witness your growth and transformation. 
 and I'm so happy for you!
And what a wonderful thing it is to do this round of SOMBA Kickstart together. 
I'll do my best to give you and all the other ladies extra support and guidance. 
Love
Nadine 
P.S.: to all my fellow lady coaches, healers & creatives out there: If you're thinking about starting or leveling up your online business then I got THE program for you. Check it out here.
It changed my life & business and I know it will change yours. 
See less