THRIVING SISTERS
It's finally here: My new 4-week online-course
This has been a long time coming and it is with my utmost joy that I can now share it with you. 

And it doesn't matter if it's one day delayed – thank you for all beautiful messages btw – I feel like a new me today!
But let me tell you more about my course: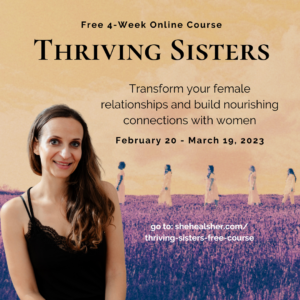 The most amazing thing about it is: it's for free for the 1st round I'm running it
You can register here: https://shehealsher.com/thriving-sisters-free-course
We're starting February 20.
In those 4 weeks we create a safe space for you to express yourself authentically and vulnerably in the presence of like-minded and open-hearted women.
This group experience will deepen your connection with yourself and with the women in your life.
You'll learn how to build a thriving network of sisterhood, long-lasting relationships and flourishing connections with women who you can trust and rely on.
You'll learn how to be more open to receive support, to ask for help & to be truly seen and heard, so that you don't ever have to feel alone again.
You'll also heal any residue and feelings of hurt, resentment, jealousy and competition so that you can be free and thrive with your sisters.
If you are an empathic or highly sensitive woman who wants to build stronger connections and more authentic bonds with other women to receive overflowing support, heal together in a safe space, and create thriving networks of sisterhood and abundance, then this course is for you.
And I'd love for you to infuse this wonderful group of women with your beautiful energy. 
Register for free today and also invite as many sisters as you want
I can't wait to see you. 
Love
Nadine