Let LOVE
Let LOVE move through you.
Let it teach you, penetrate you, until every part of you is love.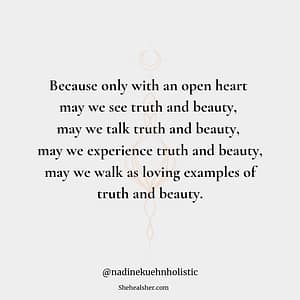 Because only with an open heart
may we see truth and beauty,
may we talk truth and beauty,
may we experience truth and beauty,
may we walk as loving examples of
truth and beauty.
Once the heart is open,
miracles happen.
But sometimes the heart wants to close
because it remembers the pain and
hurt of the past, and that is okay.
Mend it with the love like a mother
nurses and loves her child.
An open heart is the key to a
magnificent life. And it will ignite all
hearts it comes in touch with.
At the end of the day we all wanna simply be loved, but we gotta take that risk and open our hearts to receive that love that is available to us.
A love so big and gracious, a love so warm and tender, a love so powerful that it can literally overcome anything.
Nadine